December 2018 • TedGreene.com Newsletter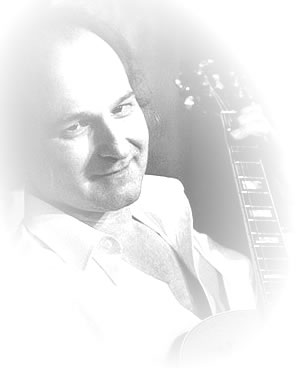 A warm holiday greeting to all!
This month we have just 11 new items from Ted to share with you. Some of the lesson pages in Ted's teaching archives are self-explanatory and we can just post them "as-is" – whereas others are fairly complex and require considerable time to re-write, re-draw, notate, or whatever so they are easier to read, understand, and follow. So, as we head into more of these types of lessons there will understandably be less of them each month. Now, I've never heard of any of Ted's students complain about not having enough lesson material to work on! Many of his pages can take months or years to really get under your fingers…and we often find ourselves coming back to those same sheets over and over throughout the years. Each month we're adding to this tremendous library of Ted's musical resources that will (hopefully) serve to inspire generations of guitarists of the future. We hope that each month you can find at least something that will food for thought and ideas to keep your fingers learning.
We wanted to share with you Barbara Franklin's account of the last December holiday season she spent with Ted:
On December 12, 2004 Ted played his fifth brunch at Spazio's. When we arrived, all the tables around the stage had been reserved so I sat at a small table in the bar area. While he was warming up, I got some breakfast from the buffet. By the time Lori and Andi arrived, Ted was sounding spectacular. He played many songs just for me. I was enraptured, could not hold back tears, it was so poignant; all the songs had special meaning which he expressed so deeply it penetrated my being. That was his beautiful early Christmas gift to me.
In his datebook he noted, "I surprise Barbie (who's with her best friend Lori & her sis Andi) and play many tunes for her. She is thrilled. Angela for first two hours, Banana Crème for Christmas medley, spontaneous last half hour. This '54 Esquire and my equally beloved Fender Vibrolux Reverb is now producing the sounds I've wanted all my life. Part of it is sitting to the side of the amp (all tuned down one whole step — no, 1/2 step I found out later), Then very last half hour, as fine a sound as I've ever gotten. Spectacular, ringing, throaty, chimey on #4: my beloved '54 Esquire with '60's Vibrolux Reverb: Have Yourself a Merry Little Xmas, O Xmas Tree, Silent Night, White Xmas, The Xmas Song."
The following Sunday Ted played a two-hour early afternoon private party at The Getty Center's Scholar's Lounge. When he came home, he found Lori and I attempting to surprise him by making homemade chocolate chip cookies sans electric mixer, hard work but we succeeded. The three of us, stuffed with warm cookies fresh from the oven, chips melting on our fingers, watched (for the millionth time), and still marveled at, the Wizard of Oz. Then he caught another cold.
Christmas Eve Ted came over unknowingly bringing his illness with him. He'd felt better when he left his apartment, then the illness manifested again here. We knew he shouldn't stay, as much as we wanted to spend the evening together, especially to share the music of the season, but it seemed to be the season itself that caused his illness. I recalled that almost every year, around the same time, Ted would catch a cold. Yet before he left, we exchanged our meager but heartfelt gifts. Photographs and silver coins for an electric mixer (so thoughtful), and a wonderful puzzle.
Ted remained very sick throughout the last week of the year; he taught a student or two, transcribed a few Colombo cues, and worked on some guitars: "Bend 2 contacts for neck pickup and repair (Guild T100D SB) Sadie's toggle switch which wouldn't stay in position, but in order to access her I had to drill out (in 4 stages) one of the stripped, old rusted pickup wiring screws. Success. Readjust. And what a jazz tone, controls full up and neck pickup now very low in its ring in the Peavy Special 130. Even sounding 2 - perfect thick rounded hollowish mid-range tone."
Sad at not having seen Ted for a week it was a surprise to hear him come in on New Year's Eve afternoon, completely recovered from his illness. So glad to see each other, and I was relieved that he was again well. Impromptu, we met Lori and Andi for a late lunch at Solly's Deli. Later spent a quiet, enjoyable evening joined by Lori for a while, the three of us watched "De Lovely," not great, but okay. Ted and I stayed up 'til midnight, saw the ball drop, and at the very moment when I exclaimed it's 2005, Quincy [the cat] kissed me! My first kiss of the New Year, then I asked Ted for my second kiss. I was so glad this year was over, and Ted echoed my sentiment, "B thrilled to be done with 2004 & Quincy's kiss of her right after midnight seals the deal."
From My Life with the Chord Chemist, p.160-161.
by Barbara Franklin

* * * * *
~ Your friends on the TedGreene.com Team

NEW ITEMS
ARRANGEMENTS:
* Lucy in the Sky with Diamonds, 1993-01-10. [Written up as a special request during a private lesson, Ted gives us his interpretation of this well-known Beatles tune, minus the chorus section. Notation and lyrics provided combined with Ted's grids.]
Under the "Lead Sheets written by Ted" header:
* Teach Me Tonight, 1973, September. [Ted wrote this lead sheet back in 1973. There's no arrangement connected with it – just melody and chords. New notation with lyrics added.]
BAROQUE:
* Baroque Major Key Vocabulary, 1974-12-03. [On this page (and the similar one for minor key vocabulary), Ted lists the common triads, common 7th chords, and "bass view of chords" for every degree in relation to each major (or minor) key. He used Roman numerals to describe the chord degrees and chord qualities. Newly typed text for easy reading.]
* Baroque Minor Key Vocabulary, 1974-12-03. [See above.]
* Triads in 2nd Inversion, 1975-01-11. [This lesson focuses on explaining and demonstrating the use of triads in 2nd inversion (that is, 5th in the bass or 6/4 chords). Here Ted defines Cadential 6/4, Appoggiatura 6/4, Pedal 6/4, Stepwise Bass 6/4, and Arpeggio 6/4 chords. Newly typed text with notation and added chord diagram grids for easy reading.]

CHORD STUDIES:
Under the "Harmonization of a Given Melody header:
* 2-to-1 Diatonic Ascending Stepwise Bass Motion w/Delayed Entrance (pt.1), 1985-05-02. [This is a long title to describe these 29 different examples for playing a simple 4-note melody. It's another wonderful addition to this series of how to harmonize melodies. Notation added combined with Ted's grids to make it easier to read and understand. Next month we'll have part 2.]

COMPING:
* Fascinating Rhythm, Comping on the Top 4 Strings (Key of F), 1984-08-28. [This is a fairly easy-to-play comping lesson for this jazz standard. Be sure to check out Ted playing this song with Cathy Segal-Garcia in the "Ted Greene GIT Seminar 1978" recording in our Audio section. Ted isn't playing this lesson page, but you can get an idea of the song and different ways to approach comping it. Notation with lyrics combined with Ted's grids for easy reading. Next month we'll have another comping exercise for this same tune, but in the key of Eb, using the middle strings.]

FUNDAMENTALS:
* Quiz on Chord Names, 1976-05-19. [This is a quiz page Ted gave to his students back in 1976. We re-drew the chord diagrams to make them easier to read and to allow for more space to write in your answers. We also provided "Answers" pages. Although Ted didn't mention it, all the chords are in root position (except for a few that he indicated with the chord tone written below the grid. Even though we're posting this in our "Fundamentals" section, some of the chords are rather advanced for a beginner or intermediate student.]

HARMONY & THEORY:
* Vocabulary Reference Page - The 12 ii-V Groups within a Major Key, 1974-04-27. [If you ever wanted to know all of the ii-V's that relate to all major keys, search no longer. Ted has listed them in a chart, and then explains the "most common functions" of them. This can provide good food for thought, especially for composition or reharmonization. Newly typed text.]

JAZZ:
* Wes Montgomery Octave Visualization via the Bottom Note, 1989-10-17. [Octave playing patterns for dominant 11 chords (and "friends" or extensions), as Ted believes Wes would have visualized them. We provided an extra page with blue dots to show in detail the octave runs.]

THE V-SYSTEM:
* Choice V-1 Dominant Functioning Chords, 1986-10-19. [This is from Ted's Personal Music Studies files, relating to his work on "The V-System." It's a summary of "choice" voicings extracted from his complete list. Many of the chord are quite difficult to play (though not impossible!), and your fingers are not going to like this stuff! You'll find them easier to play higher up on the neck. The red numbers relate to Ted's list of "The 43 Four-Note Qualities" (or 35 in this case), and adjusted or interpreted for dominant chords. He was trying to be complete and thorough in his listing so you'll see many chords that you may not find very useable. If you look closely at the diagrams as they move from the left to right and down the pages, you'll see the logic in and progression of the variations: often one note on a string moving one fret at a time. Newly typed text with added chord grids to show how they lay on the fingerboard.]





Ted on YouTube

The Official Ted Greene Forums

* Of course, most of the videos are posted right here in our Video Section


+ + + + + + + + + + + + + + + + + + + + + + + + +



- - - - - - - - - - - - - - My Life with The Chord Chemist - - - - - - - - - - - - - -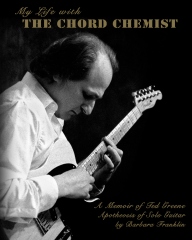 My Life with The Chord Chemist
A Memoir of Ted Greene, Apotheosis of Solo Guitar
By Barbara Franklin

BUY NOW - Available at amazon.com


Publication Date: Nov 24 2009
Page Count: 276
Trim Size: 8" x 10"


ABOUT THE BOOK
A retrospective of Ted Greene, virtuoso solo guitarist, beloved music teacher, world-renowned author and innovator of unique music concepts for guitar. This book also includes an overview of Ted Greene's early life and musical development, plus an insightful narrative of the 13 years prior to his death
Six agonizing months after losing my beloved Ted, I slowly emerged from a state of profound disbelief, almost coma-like. At that time I didn't know what to do with the remnants of my life; then a path began to unfold before me. This website was started and became a saving grace.

During the ensuing years, I organized and categorized Ted's material and personal studies. Upon completion of that massive undertaking, once again, I didn't know what to do, so I began writing.

I wrote pages, and then threw them away, until once again a path began to unfold. What I wrote is mostly a personal memoir. I suppose it was what I had to write first.

From the preface:
"The decision to reveal parts of our personal life was something I deliberated over for a long time. Because our lives became so inextricably bound, I included what I felt necessary, but not without a considerable amount of apprehension. This book illustrates the many parallels between Ted the musician and Ted the person. I felt it was important to convey how Ted was driven compulsively not just to pursue music, but so many other things he loved."
With this in mind, here is our story. It IS very personal and I still have apprehensions about publishing it. My hope is that it brings you closer to Ted, as you begin to get to know and understand this unique and extraordinary man and musician.
+++++++++++++++++++++++++++++++++++++

Don't forget to visit the Newsletter Archives :)