July 2017 • TedGreene.com Newsletter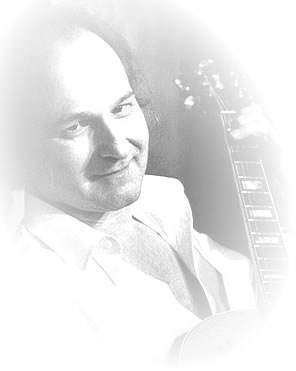 Welcome to the July edition of our Newsletter.
This month we went a little crazy and wrote up and posted all 8 of Ted's comping pages for the tune "Bluesette." We already had one that was posted years ago and which recently got an upgrade. That one was in the key of Bb and featured "Bass-enhanced triads" as the main chord types used. This month we have it in A, Ab, B, Bb, C, D, Db, F, and G, using V-1 and V-2 voicing groups, and in 3/4 and 4/4 time. I'm guessing that Ted put it in 4/4 after hearing Howard Robert's Something's Cookin' album, wherein there's an arrangement of "Bluesette" in 4/4 (check it out on YouTube if you haven't heard it: Bluesette.).
Ted sometimes would make comping studies of a tune in several keys and/or on different string sets, and with various chord types, like V-1 or V-2 voicings. He did this for a reason: to help the student lean how to transpose a song or chord combinations into different parts of the neck. Very often the voicings he used for a piece with "V-2 on the top 4 strings" was identical to the version of "V-2 on the middle strings" – the only thing that would change is the forms used. Or, if a key was changed, the chords were often identical except in a new key. Ted would often give this type of work as assignments to the student. In this case of "Bluesette" Ted did a most of that work for us with all of these lesson sheets.
There's a few other songs similar to "Bluesette" that Ted used as teaching vehicles, such as: "A Foggy Day", "Autumn Leaves", "Moonglow" and others. I'm guessing he chose these songs because of their chord progressions. In "Bluesette" it's a series of ii-V progressions. It begins on the I chord, then we play a ii-V going to the key's vi, then a ii-V going towards the key's V, then to the key's IV, then to bIII, then to bII, and finally a ii-V leading back home to I. From the V to the bII that's a sequence that moves down in whole steps. This is song provides a perfect harmonic workout in a song setting – a simple yet elegant melody stitches it all together. It's no wonder that Ted liked this tune. And be sure to check out his two written arrangements: Bluesette, Key of G and Bluesette, keys of Db, D, and Gb. Notice his "roadmap" or tune analysis that is combined with the arrangement in the key of G.
We decided to post all of these comping pages at one time (rather than spread out over several months), so you can really dig into this piece and do some "binge practicing" on just one song. This may seem a bit extreme, but some people may prefer it this way. If you want to take a more balanced approach, then just take your time and pace yourself over the course of the summer.
I'm guessing that if one learns all or even just a few of the comping pages they'll give you plenty of ideas for expanding and enhancing your approach to playing this song as a solo piece…you'll have lots of cool ideas for creating your own chord solos. As an assignment, Ted might have even suggested that you create a version of "chords with walking bass" for variety. Good luck, and enjoy!
And finally, we wanted to leave you with these remembrances about Ted from one of his favorite singing partners, as posted on the Memorial Blog a few days after his passing:
I came to Los Angeles when I was 21. I had come from a jazz-musical background, I was mainly a singer, and had attended Berklee, where Ted's name floated around the guitarists...that was 1972-75. When I got here I waitressed at Dante's, the main jazz club in LA at the time. Ted was there one night...happened to faint because the music volume bothered him! (You guys know how Ted felt about music volume!) We became friends, and when he found out I sang he suggested getting together... We did and started rehearsing; we modulated every song at the bridge! Then we were ready for a gig...I put up about 4 or 5 signs at some music stores. I convinced David Abhari from the Sound Room in Studio City to let us play. We were one of the first live bands to play there.
I showed up to my first gig in L.A. that night...to a packed house...no standing room left! We played that club once a week for a year. One time we were hired for a private party in the Hollywood Hills. About 3/4 way through the party people stopped partying and sat down and listened to the rest of the gig. That happened more than once!
Words are just words; what they signify is important. To say that Ted was kind and full of humor brings to my mind and body the warmth that Ted, the spirit, is. Ted, the spirit, is not dead and will never die. He has and continues to affect thousands of people because of the quality of living-ness that he put out into the world. To not be able to hug him or see the whole package, body and all, is so very sad. But I can visit Ted whenever I want to. He has affected me—beautifully. What more in this lifetime could anyone want?
Love,
Cathy Segal-Garcia
July 27, 2005
~ Your Friends on the TedGreene.com Team

NEW ITEMS
ARRANGEMENTS:
* Handel – Water Music – Bourree, 1970-09-29. [This is a very early arrangement of Ted of Handel's score. We're not sure if this was his preliminary sketch of the final guitar arrangement. comments. The last chord in measure 10 was chopped off in the scan, so we had to fill in the blanks based on Handel's score and Ted's moving voices. Ted changed some bass notes here and there and we're not sure why, but for the most part he sticks with Handel's voicings. Perhaps some particular voicings/inversions were not possible to play on the guitar so he made adjustments. New notation and suggested grid chord diagrams provided. Other fingerings are possible for you to explore.]
For under the "Lead Sheets Written by Ted" header:
* A Dream is a Wish Your Heart Makes, 1973-09-03
* A Summer Place, 1973-09-03
* Blue Skies, 1973-09-03
* By the Time I Get to Phoenix, 1973-09-03
* Canadian Sunset, 1973-09-03
* Funeral March of the Marionette, 1974-09-17
BAROQUE:
* Baroque Progressions Using 1st Inversion Triads, 1980-06-24 & 1980-10-31 [The title tells it all here: 24 exercises with ascending bass lines, and 10 exercises of descending bass lines. The first group is B diminished to C, and the second group is B diminished to Am. New notation is provided for easy reading, but you'll need to come up with chord forms and fingerings, as there will be multiple ways to play some of these.]
BLUES:
* Jazzy Blues ala Early '60s N.Y., 2005-06-16 and 2005-07-14. [This is a blues study from two private lessons in June and July of 2005. This is one of the last lesson sheets written by Ted before his passing in July of 2005. It is basically an outline of chord forms to use in playing a blues using 3rds and 7ths in the lower part of the chord. Most of these chords are above the 12th fret, and I believe the idea is for you to add melody lines on the top end. This is similar to how Lenny Breau (and others) played – comping themselves with the "essential tones" of the 3rd & 7th, and then improvising around those forms. Notation page added with Ted's grids.]
CHORD STUDIES:
* Broken Chord Practice, 1986-04-02. [This page is a "you fill in the chords" lesson. Its primary focus is for right hand picking of the chords in the various patterns as given at the top of the page. The fill-in chords are based off the voicings Ted provided, but taking them through all the chords in the key following the diatonic cycle of 4ths. A filled-in page is provided as reference. Ignore it if you want to do the work yourself.]
* Using Low-End 1st Inversion Diatonic Chord Scale Passages, 1985-09-29. [This is some good basic chord moves with low-end chord. A filled-in diagrams page is included as reference.]
COMPING:
[See the Newsletter message above for more about these pages. All come with notation, lead sheet, lyrics, and combined with Ted's grid diagrams.]
* Bluesette (key of A) V-1
* Bluesette (key of Ab) V-1
* Bluesette (key of Bb) V-1
* Bluesette (key of Db) V-2, 4/4 Time
* Bluesette (keys of A, Ab & B) V-2, 4/4 Time
* Bluesette (keys of Bb & Db) V-2, 4/4 Time
* Bluesette (keys of C, Ab & Db) V-2
* Bluesette (keys of G, F & D) V-2
THE V-SYSTEM:
* V-2, Dom7+ Chords – Middle Strings_ Systematic Inversions, 1987-01-25. [Some very nice V7+ to I/9 chord moves here. Filled-in diagrams provided as reference.]
* V-2, Dom7+ Chords – Top 4 Strings, Systematic Inversions, 1987-01-25. [More V7+ to I/9 chord moves. Filled-in diagrams given for reference.]
TRANSCRIPTIONS:
* "Blues in G" from CA Vintage Guitar Clinic, 2003-12-14, Transcribed by Lucio Rosa. [Here's a very hip, short blues piece transcribed from Ted's seminar. This occurs in part 1 of the video series on YouTube, starting at around 5:10 thru 6:00. Grids only – you'll have to provide the groove yourself. Check it out: Blues in G, Ted Greene, CVG Seminar, 2003-12-14, part 1
Thanks for sharing this with us, Lucio!


Ted on YouTube

The Official Ted Greene Forums

* Of course, most of the videos are posted right here in our Video Section


+ + + + + + + + + + + + + + + + + + + + + + + + +



- - - - - - - - - - - - - - My Life with The Chord Chemist - - - - - - - - - - - - - -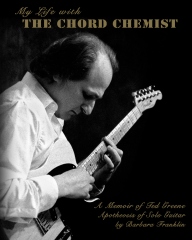 My Life with The Chord Chemist
A Memoir of Ted Greene, Apotheosis of Solo Guitar
By Barbara Franklin

BUY NOW - Available at amazon.com


Publication Date: Nov 24 2009
Page Count: 276
Trim Size: 8" x 10"


ABOUT THE BOOK
A retrospective of Ted Greene, virtuoso solo guitarist, beloved music teacher, world-renowned author and innovator of unique music concepts for guitar. This book also includes an overview of Ted Greene's early life and musical development, plus an insightful narrative of the 13 years prior to his death
Six agonizing months after losing my beloved Ted, I slowly emerged from a state of profound disbelief, almost coma-like. At that time I didn't know what to do with the remnants of my life; then a path began to unfold before me. This website was started and became a saving grace.

During the ensuing years, I organized and categorized Ted's material and personal studies. Upon completion of that massive undertaking, once again, I didn't know what to do, so I began writing.

I wrote pages, and then threw them away, until once again a path began to unfold. What I wrote is mostly a personal memoir. I suppose it was what I had to write first.

From the preface:
"The decision to reveal parts of our personal life was something I deliberated over for a long time. Because our lives became so inextricably bound, I included what I felt necessary, but not without a considerable amount of apprehension. This book illustrates the many parallels between Ted the musician and Ted the person. I felt it was important to convey how Ted was driven compulsively not just to pursue music, but so many other things he loved."
With this in mind, here is our story. It IS very personal and I still have apprehensions about publishing it. My hope is that it brings you closer to Ted, as you begin to get to know and understand this unique and extraordinary man and musician.
+++++++++++++++++++++++++++++++++++++

Don't forget to visit the Newsletter Archives :)