March 2017 • TedGreene.com Newsletter

ADVANCE TO NEW ITEMS >>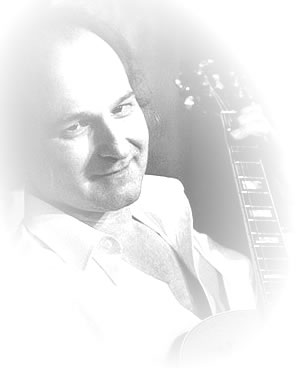 Welcome to our March Newsletter!
This month we have a very special treat for all of you that I'm sure you'll enjoy. Jim Carlton has kindly agreed to share with us his interview or "conversation" with Ted from his book. He contacted us a few months ago with the offer, and he was then able to receive permission from Mel Bay Publications for this excerpt. We'll let Jim tell you about this fantastic article:
"I hope this interview serves to convey Ted's brilliance and insight to those who subscribe to this website. Bill Bay was gracious in granting permission to reprint this interview. My book is entitled Conversations with Great Jazz and Studio Guitarists – "conversations" because its agenda was simply about two guitarists talking about guitars, music, and other guitar players. It's a book of dialogs, and so far, in all immodesty, it's received excellent reviews. But Ted's interview, in my opinion, is one of, if not the most important, one of certain gravitas for the ages. Almost half of the great players I talked to are now gone, which makes the book just that much more valid if you will. This was Ted's last interview and it's my pleasure to share it with you and those who so appreciated his genius.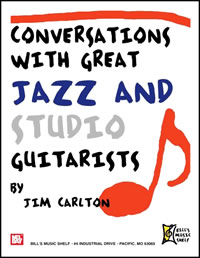 "No doubt everyone Ted met considered him a friend. Ted and I had such a marvelous friendship. I have many more recordings of our buddy – most of which are ready for transcription from the plethora of extended messages he left on my answering machine and from things I have left over from our long interviews. I was privy to many of his opinions and philosophy. There is more info on my phone messages, and he left them for me to digest and consider many, many times over. Thank goodness those were the days of analog tape when one could leave lengthy messages up to a half an hour or more – and Ted did. Guess there's something to be said for ancient technology. :-) When I get some time, I plan on converting all of Ted's messages to a digital format, and will be happy to pass them along to the TedGreene.com site for those who would find them interesting.
"I sincerely hope that this interview provides some insight to Ted's brilliance for so many who can benefit from his extraordinary talent."
- Jim Carlton
We all extend a hearty thank you to Jim for not only capturing these moments with Ted, but also for sharing it with all of us, and we look forward to possible future additions from his tapes. If you're interested in purchasing Jim's book you can find it here on: Amazon.com. Aside from this, our monthly New Items has our usual assortment of an arrangement, a comping page, a few V-System pages, a blues, some chord studies, and a few other miscellaneous lesson sheets from Ted's teaching archives. This month we have a bit less than in previous months, mostly due to the fact that we've been focusing on upgrading some of the previously posted lesson sheets. I do hope you're keeping up with these changes, for some of them have considerable improvements. So, enjoy reading the interview and diving into the new lessons.
~ Your Friends on the TedGreene.com Team

NEW ITEMS
ARRANGEMENTS:
* You're Gonna Hear from Me, 1977-12-20. [This is one of Ted's early arrangements, made with his grid stamper with red ink. We've added new notation combined with Ted's grid (now straightened out and repaired!) and included a lead sheet that Ted used for mapping out the arrangement with his harmonic embellishments.]
ARTICLES & INTERVIEWS:
* "Ted Greene Interview by Jim Carlton" from Conversations with Great Jazz and Studio Guitarists. [Twenty pages. See Newsletter message above.]
BAROQUE:
* Some Ways to Make Music with Triad Chord Scales, 1974-09-26. [Ted gives us 34 examples of patterns using close triads, and 32 examples using open triads. He tells us that these will, "improve your musical ear, finger dexterity, visualization of the fingerboard, and knowledge of harmony." Included is Ted's original page plus three pages of new notation. This was written up as a special request.]
BLUES:
* Blues in Db, 1999-12-02. [This is a blues study that Ted wrote up during a private lesson. At that time Ted called it "#2 Chord Solo," but later as he was reviewing his papers (which he did periodically), he crossed out "chord" and wrote "blues" as a clarification. We've added a page of notation combined with Ted's grids to make it easier to follow. Of course you'll want to add some syncopation and "delays" in order to bring some life to this piece. In measure #4 Ted indicated to "fill with walking bass," so we went ahead and added a simple line (in blue) as a suggestion…use it or make up your own line.]
CHORD STUDIES:
* String Crossing with Diatonic Chord Scales, 1984. [Here are some good fundamental 4-note chord scales using various voicings, going up the diatonic major scale, and crossing string sets. The main thing Ted wants us to focus on in this lesson is the crossing from one string set to the next. The grids in Ted's original pages look a bit confusing because he notated two chords per grid (the first with dots, the second with x's). This file has his three original pages, plus we've added 4 pages of standard notation with re-drawn grids for easy reading.]
* 4-Note Pentatonic Chord Scales, 1985-03-30 & 1985-04-04. [Chord scales on the top 4 strings, used to create a pentatonic sound. Ted has 3 pages of grid diagrams, mostly with 2-to-1 textures. Great ideas! Previously posted in the "Blues" section, we've combined all 3 pages into one file, cleaned them up a bit, renamed them, and moved it to Chord Studies / Chord Scales.]
* Mixing Chords with 6th &5th String Roots in the Diatonic Cycle of 4ths, 1985-09-15. [Good basic chord moves for diatonic chord cycling within a key. Four pages, 17 examples, 5 keys. With "contrapuntal isolation" or the use of "delays" and ties (sustained notes), Ted shows us how to make these even more interesting.]
* Power-Bass Triads, 1989-09-25. [Nine examples of bass-enhanced progressions. Notation added.]
COMPING:
* Summertime (key of Cm), 1990-08-12. [Comping in the key of Cm with V-1 chord forms. Ted's original page says "p.2" but he is simply referring to the comping page that was posted last month – "Summertime" in the key of Am. New notation with lead sheet combined with Ted's grids provided.]
FUNDAMENTALS:
* String Transference Studies (part 2), 1988-08-08 & 10. [Ted continues explaining his methodology for of string transference of top 4 to middle 4 strings, then middle 4 to lower 4. Two original pages, plus translation pages.]
OTHER:
* Ear-Training Progressions Organized by Soprano, 1985-09-07, 8, 9. [These pages are all about listening and filing away in your mind the sounds and feelings generated by each different progression. Five original pages, plus two pages which are a transcription of Ted's handwritten comments.]
SINGLE-NOTE SOLOING:
* Harmonic Minor Single Note Scales, 1974-12-18. [In this lesson page Ted outlines the F# harmonic minor scale in 8 positions, along with the corresponding chords and arpeggios for F#min/maj7, G#m7b5, and C7b9 (with some variations). This is an excellent reference page for soloing over minor ii-V-i progressions. New notation and grids provided for easy reading.]
THE V-SYSTEM:
* iii7-VI7-ii7-V7 Chains, V-2. 1985-04-23. [A collection of chord moves using V-2 chord forms on the top and the middle 4 strings. Two pages. This file has been placed in the V-2 / Progressions and Other Stuff area.]
* Resolution of Dom. Type Extensions, V-2 & V-1 Adjusted Voicings, 1987-01-18. [This has been placed in the "Combined Groups" area of the V-System Lesson Sheets section. Translation page included for easy reading.]
* Resolutions of Special Diatonic V Chords, V-2 Top 4 Strings, 1987-01-20. [Ted gives us some interesting V-I chord moves using V-2 on the top strings, and all of the V chords are of the 11 or sus variety – including his famous "17th" chord. An "filled-in" copy with the chord names is provided. Ignore this if you want to do the "homework" of naming the chords.]
TRANSCRIPTIONS:
* Ol' Man River (from Ted's "Solo Guitar"), transcribed by Mark Thornbury. [Here's another Ted-style grids transcription from one of Ted's long-time students. Before Solo Guitar was recorded, Mark and Ted went over this song together in a lesson, so Mark had Ted's early basic structure mapped out even before he began transcribing this beautiful piece. And be sure to read Mark's comments about the modulations used in this song in an article in his "From Students" section here: tedgreene.com/fromstudents/OldManRiver.]


Ted on YouTube

The Official Ted Greene Forums

* Of course, most of the videos are posted right here in our Video Section


+ + + + + + + + + + + + + + + + + + + + + + + + +



- - - - - - - - - - - - - - My Life with The Chord Chemist - - - - - - - - - - - - - -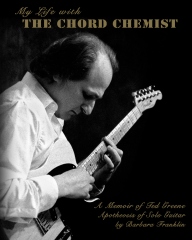 My Life with The Chord Chemist
A Memoir of Ted Greene, Apotheosis of Solo Guitar
By Barbara Franklin

BUY NOW - Available at amazon.com


Publication Date: Nov 24 2009
Page Count: 276
Trim Size: 8" x 10"


ABOUT THE BOOK
A retrospective of Ted Greene, virtuoso solo guitarist, beloved music teacher, world-renowned author and innovator of unique music concepts for guitar. This book also includes an overview of Ted Greene's early life and musical development, plus an insightful narrative of the 13 years prior to his death
Six agonizing months after losing my beloved Ted, I slowly emerged from a state of profound disbelief, almost coma-like. At that time I didn't know what to do with the remnants of my life; then a path began to unfold before me. This website was started and became a saving grace.

During the ensuing years, I organized and categorized Ted's material and personal studies. Upon completion of that massive undertaking, once again, I didn't know what to do, so I began writing.

I wrote pages, and then threw them away, until once again a path began to unfold. What I wrote is mostly a personal memoir. I suppose it was what I had to write first.

From the preface:
"The decision to reveal parts of our personal life was something I deliberated over for a long time. Because our lives became so inextricably bound, I included what I felt necessary, but not without a considerable amount of apprehension. This book illustrates the many parallels between Ted the musician and Ted the person. I felt it was important to convey how Ted was driven compulsively not just to pursue music, but so many other things he loved."
With this in mind, here is our story. It IS very personal and I still have apprehensions about publishing it. My hope is that it brings you closer to Ted, as you begin to get to know and understand this unique and extraordinary man and musician.
+++++++++++++++++++++++++++++++++++++

Don't forget to visit the Newsletter Archives :)