January 2018 • TedGreene.com Newsletter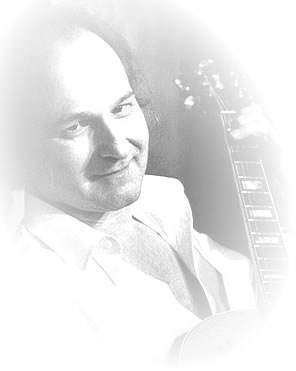 Happy New Year greetings to all Ted Greene fans, friends, and students!
The beginning of the year is a good time to take a look at where we are, how far we've traveled in the past year, and to look ahead at the coming months. I did a quick review of the new Ted lessons and other related items that we posted in 2017 and here's what I came up with:
2017 New Lesson Items Posted: 222
Arrangements: 48
Articles & Interviews: 4
Baroque: 18
Blues: 14
Chord Studies: 33
Comping: 18
Discography & Publications: 1
From Students: 5
Fundamentals: 11
Harmony & Theory: 3
Jazz: 3
Other: 8
Performances: 1
Single-Note Soloing: 6
Transcriptions: 24
The V-System: 25.
And many, many of these lesson pages are multi-page, most of which contain some kind of translation or notation that was added for clarity. So, it would be safe to round that number up to about 275 for new lesson pages. Not bad for one year! Even if you studied privately with Ted every week for years, you still wouldn't have amassed as much material as we're providing on this site. However, what you would have gained is a unique one-on-one experience with one of the finest guitar teachers and musicians. So, what we lack in that personal instruction we try to compensate with quantity. We also do our best to translate many of Ted's pages into legible, easy to read and follow lessons that one should be able to absorb what Ted was trying to teach. Nevertheless, a lot of the learning comes from your own diving deep into each lesson pages and tuning in to whatever Ted was trying to convey.

But let's not forget one of the least-used resource on our site: the Forums. It seems that it has been neglected in recent months, with only a few posts per month. But this is a wonderful place to discuss anything related to Ted Greene, with an excellent community of guitarists ready to tackle any technical, musical, or off-the-wall questions – many of whom are Ted's former students and they are happy to share insights to Ted's approach, his techniques, his music, gear, and lots more. Don't be shy about using this fine resource.
And now looking at the "Lesson Files upgrades" we did since we started this project in December 2016:
Upgrades Total so far: 186
Upgrades: December 2016: 18
Upgrades in 2017: 168 (94 of which are in the "Arrangements" section)
Wow!
Reviewing all the lesson pages in Ted's Teachings Archive, it's hard to say exactly where we are, but a rough estimate is that we've posted about 82 percent of all the sheets that were scanned by Barbara Franklin and Leon White. This doesn't include his Personal Music Studies folder, in which only a small percentage have been posted, and it hasn't been fully indexed yet. Many of those sheets were never intended to be given out by Ted as lesson material, but is mostly a collection of miscellaneous musical ideas, work sheets, calculations, sketches, etc. Tons of them are really not worthy of posting, being just scribbled ideas that Ted wouldn't want us to publish. But after all the files in the formal Teaching Archives have been posted we'll be going through the PM Studies papers and pulling out and posting anything that seems remotely useful or informative.
A review of the status of the arrangements and comping sheets shows that roughly 80 percent are now published on our site. Many of the remaining ones are from private lessons, or are fragments of songs—but there are quite a few gems yet to be posted, so stay tuned!
Almost the entire "V-System" lesson pages are now posted (just 3 more pages to go)! Whoopie!! Barb Franklin told us that this was Ted's "pet project" and it was what he considered one of his major contributions to guitar pedagogy. Unfortunately, he didn't put all these ideas into a complete and graduated method or system of study, but he would be happy to know that everything he wrote has been disseminated to the world (not to mention the superb explanations provided by Mr. James Hober). There are numerous V-System items in Ted's Personal Music Studies files, and we'll now begin going go thru and writing up anything from there that is helpful or that sheds some light on the subject of the V-System.
Looking ahead at 2018: We'll continue to push through with the Lesson Files Upgrades project, and try to finish this before we make any major design changes to the site. But the output for 2017 was enormous, and 2018 will have to be less prolific.
We should be able to finish up all of Ted's "Bass-Enhanced Triad" lessons, "Ear Training" pages, "Harp-Harmonic" sheets, and "Blues" lessons sometime in 2018. We also plan to create a new series with a header in the "Chord Studies" section called, "Harmonizing a Given Melody" to house the pages Ted wrote up on this subject. These are among some of my favorite sheets—Ted doing what is does so well: taking a simple melody and harmonizing it 20+ different ways, with different textures, colors, moods, feelings, etc. It should be fun, but it'll take a lot of time notating some of these sheets. We also plan to put some focus on posting more of Ted's Baroque pages. And, of course we hope there'll be more transcriptions forthcoming from all of you.
We want to deeply thank everyone who has contributed to the growth of the site this past year, either by monetary donations, or by sharing your transcriptions of Ted's recordings, or your Ted-related lessons for our "From Students" section, or by aiding in the proofreading some of the lesson write-ups. All of these efforts, plus our monthly newsletter/new items, helps to keep us as one of the most exciting sites on the web for learning solo guitar. Oh, did I mention that we're also the most affordable place to learn and improve your playing?
~ Happy New Year from your friends on the TedGreene.com Team

NEW ITEMS
ARRANGEMENTS:
* Days of Wine and Roses (key of F), 1984-09-14. [Ted subtitled this page as "Ensemble or solo style harmonized melody (intermediate level). I think you'll find this one fairly easy to lean and fun to play. Standard notation added to Ted's grids.]
* Here Comes the Sun, 1973-09-04 and 1993-09-30. [This is not a transcription of the Beatles tune, but Ted's fingerpicking arrangement of it. He made the notation version of it back in 1973, and then during a private lesson he mapped out the chord diagrams to correspond to his notation. We simply combined both and added chord names to his grids.]
BAROQUE:
* Examples of Progressions Using 1st Inversions, 1975-02-09. [Major keys, various diatonic progressions with Roman numeral analysis showing first inversion figured bass (with a subscript 6). New notation with chord names provided. For chord grid diagrams of each example, please see Mark Thornbury's "homework" of this page in his "From Students" section.]
CHORD STUDIES:
* Approach Chords - Contrary Motion Soprano, 1985-10-30. [This is a simple page which shows approach chords from a half-step above the target chord, which has an 11th in the soprano and the root in the bass.]
* Mixed Major Tonality - bIII-bVII-IV-I, 1989-12-14. [Some ideas Ted wrote up for add9 or major 9th chords. These pages almost qualify to be part of the B.E.T. collection. Almost. Translation page with chord names provided for clarity.]
* Multi-Tonal Major – Diatonically Mixed Major, 1989-12-17. [Like the lesson listed above, this page has some "moves" for add9 chords, and might be considered part of the B.E.T. lessons.]
Listed under the BASS-ENHANCED TRIADS header:
* B.E.T. Language and Misc. Ideas, 2000-02-05, 1992-02-01, 1994-09-11. [This file combines one page and 3 fragments of some of Ted's "Bass-Energized Triads" for the book he intended to write. Notation and chord names provided. ]
Listed under the TRIADS header:
* I-ii Low-End Open Triads, 1985-09-20. [This is a fill in the dots assignment. Answer page given as reference.]
* Low-End Open Triads, I-IV-iii-I and I-IV-bIII-I Chains, 1985-09-20. [Another fill in the dots lesson.]
* Low-End Open Triads in I-IV Progressions, 1985-09-18, 20 and 1986-01-11. [This file combines three related lesson pages, two of which are the fill in the dots variety.]
* Low-End Open Triads Using iii and vi, 1985-09-20. [Some minor triad forms for open triads.]
* Open Triads, I-ii-IV-iii-I, 1987-01-07. [Translation pages with filled-in dots included.]
* Open Triads - Low-End Major and Minor 1st Inversions, 1985-09-17. [Two original pages plus two translation/filled-in pages.]
* Open Triads - Low-End Major and Minor 2nd Inversions, 1985-09-17. [One original plus a translation page.]
* Using All 3 Low-End Open Triad Major Forms, 1985-09-18. [Summary homework page with answer page provided.]
COMPING:
* Days of Wine and Roses, (key of Eb), 1984-09-04. [Comping on the lower strings (mostly V-2 chord types and some fragments. Notation with lyrics added.]
* Days of Wine and Roses, (key of F), 1984-09-04. [Comping on the middle strings (mostly V-2 chord types and fragments. Notation with lyrics included. This lesson and the one in the key of Eb are identical except that they are a half-step apart and the chord forms are located on different string sets. Other than that, the voicings are the same, so this should make learning easier after you've learned one.]

FUNDAMENTALS:
* The Dominant 7th Scale, 1977-12-30. [This is a very early lesson sheet. It may have been a draft for a book he was writing. The original page also includes an incomplete paragraph on "Scale-Chord Relationship" that he crossed off. This was not included in the translation write-up.]

THE V-SYSTEM:
* V-1 Dominant 7#5 on Top, 1985-08-09. [Have need of a dominant 7th with a #5 on top, look no further – Ted has a few for you here, plus various resolutions to major type chords.]
FROM STUDENTS:
* Examples of Progressions Using 1st Inversions, 1975-02-09. [This is Mark's "Homework" pages for this lesson. He used Ted-style chord grids to map out all of the examples on Ted's original sheet. Find it under the "Contributions by Mark Thornbury" header.]




Ted on YouTube

The Official Ted Greene Forums

* Of course, most of the videos are posted right here in our Video Section


+ + + + + + + + + + + + + + + + + + + + + + + + +



- - - - - - - - - - - - - - My Life with The Chord Chemist - - - - - - - - - - - - - -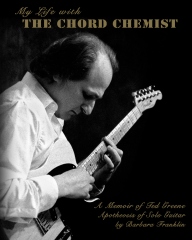 My Life with The Chord Chemist
A Memoir of Ted Greene, Apotheosis of Solo Guitar
By Barbara Franklin

BUY NOW - Available at amazon.com


Publication Date: Nov 24 2009
Page Count: 276
Trim Size: 8" x 10"


ABOUT THE BOOK
A retrospective of Ted Greene, virtuoso solo guitarist, beloved music teacher, world-renowned author and innovator of unique music concepts for guitar. This book also includes an overview of Ted Greene's early life and musical development, plus an insightful narrative of the 13 years prior to his death
Six agonizing months after losing my beloved Ted, I slowly emerged from a state of profound disbelief, almost coma-like. At that time I didn't know what to do with the remnants of my life; then a path began to unfold before me. This website was started and became a saving grace.

During the ensuing years, I organized and categorized Ted's material and personal studies. Upon completion of that massive undertaking, once again, I didn't know what to do, so I began writing.

I wrote pages, and then threw them away, until once again a path began to unfold. What I wrote is mostly a personal memoir. I suppose it was what I had to write first.

From the preface:
"The decision to reveal parts of our personal life was something I deliberated over for a long time. Because our lives became so inextricably bound, I included what I felt necessary, but not without a considerable amount of apprehension. This book illustrates the many parallels between Ted the musician and Ted the person. I felt it was important to convey how Ted was driven compulsively not just to pursue music, but so many other things he loved."
With this in mind, here is our story. It IS very personal and I still have apprehensions about publishing it. My hope is that it brings you closer to Ted, as you begin to get to know and understand this unique and extraordinary man and musician.
+++++++++++++++++++++++++++++++++++++

Don't forget to visit the Newsletter Archives :)