September 2017 • TedGreene.com Newsletter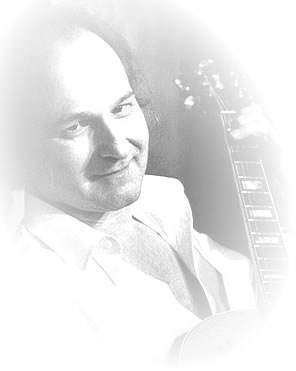 September Greetings to all friends, family, and students of Ted!
This month we have a nice balanced collection of lessons from Ted, ranging from Baroque to pop to blues to jazz to theory stuff. It shows how versed he was in so many styles, genres, and it touches on the tip of the iceberg of his vast storehouse of musical knowledge. Oh yes, and we have another nice transcription from a recording we released not too long ago. It's nice to see our transcriptions library growing, so we're encouraging you all to pitch in with stuff that you picked from the recordings or videos and put down in some shape or form on paper. Keep 'em coming!
Once again, we'd like to share a few stories this month about Ted from the Ted Greene Memorial Blog that was posted shortly after his passing. We'd also like to encourage those of you who have stories about Ted to either post them in the Forums in the "Remembrances" section, or, if you think it would be better suited to be shared in these Newsletters, to please email them to us via our "Contact Us" links. We are always happy to hear new stories, antidotes, and "things I learned from Ted" from anyone who was fortunate enough to cross paths with him in this life.
Here are some remembrances from that Blog:
"Over the last 6 years or so, Ted was both a teacher and friend to me. I was humbled by his genius, inspired by his presence, awed by his abilities, amused by his quirks, warmed by his friendship. I hope his legacy will continue to grow, so that others who never had the chance to meet him will still be able to learn from his deep knowledge of music. He treated me with respect and kindness, and had a major influence on my concept of the guitar and my imagination of what might be possible on it. It is hard to imagine life around Los Angeles without Ted in it.
"Thank you, Ted for your incredible generosity in sharing your knowledge of the guitar, music in general, and all the minutiae of the world, with me, and all those you touched. You are unforgettable."
~ Anthony Wilson
And another:
"It was 1989, and William said to me 'I am going over to Ted Greene's house, do you want to come?' Sure, why not, I thought. I didn't know who he was but that sounded like something fun to do on a Friday night. I knew very little about him other than he was William's dear, dear friend of 25 years.
"When we arrived and I saw the mounds of video tapes on the couch, guitars piled up in the bedroom, and books and books and more books stacked on the floor of his living room, I knew I had walked into the world of a very unique and special man.
"That night we all sat crossed legged in the middle of the living room floor while he talked to us of Bach and his writings. And, then I saw there in a book of Bach's theory and music, Ted was making notes, debating actually with Bach, in blue pen, inside the margins of the book. Imagine!! I was intrigued. I was in awe really. From that point forward whenever William said 'I am going to see Ted', I would want to tag along.
"In 2001 we had a Christmas party at our home in Oxnard, California, and Ted drove all the way out to our beach home. I thought, 'Wow, Ted's going to make the drive out our way. He never drives that far!' I was so excited that he was coming. He played guitar for us that night. Man, how lucky we were – a private audience with Ted Greene!
"I was so taken by Ted's passion for music and people. He was one of the kindest men I ever met. And his friendship with my dear friend William made him that much more special to me. For me he will forever remain an unforgettable spirit in my heart."
~ Ahndrea
And:
"I found his first records and books in the early 70's. I was stunned. I have never heard anything better since... Ted was truly one of the great masters. I only met him through his publications and recordings, but I felt very close to him anyway. He had a big impact on my musical vision and dream.
"I am still an avid guitarist at age 54 with some 45 years of playing behind me. Ted's work is as much an inspiration today as it was 35 years ago. I send all my new students to his work."
~ "bfulbright"
And finally:
"Ted Greene was truly one of the most unique people that I have ever had the pleasure of knowing. His depth as a human being ("human" in the fullest sense of the term) came across in every note that he played. Those of us fortunate enough to have known this gentle and caring man would agree that his kindness and altruistic nature surpassed his musical sensibilities, which were greater than any guitarist I have had the pleasure of hearing play.
"The overwhelming sadness of his passing is balanced only by the tremendous joy of having been able to experience his friendship."
~ Tommy Kay
~ The TedGreene.com Team

NEW ITEMS
ARRANGEMENTS:
* Arthur's Theme (Best That You Can Do), 1995-05-12 [You remember the 1981 movie "Arthur" starting Dudley Moore and Liza Minnelli, right? This song, written by Christopher Cross, was its theme song and it won an Oscar for the Best Original Song in 1981. Ted wrote this arrangement up for a student during a private lesson. We've put it in standard notation and combined it with Ted's grids (although we didn't add the lyrics, so you'll have to work that out on your own.) It's not too difficult to play, so it's probably for intermediate players, according to Ted's other arrangements. Listen to it on YouTube to get the right feel and lyrics.]
For under the "Lead Sheets Written by Ted" header:
* Sunny, 1979-08-06
* Yesterdays, 1979-08-06
BAROQUE:
* Baroque Chord Progressions – Contrapuntal Style, Part 1, 1980-07-04,5,6. [In this lesson Ted presents several 4-to-1 contrapuntal one-measure phrases in the key of A, and then gives additional substitute "heads" and "tails" to those phrases. (The "head" being the first half of the measure, and the "tail" being the last half.) It's mostly 1 bass note to 4 melody notes, but he also introduces other notes at various points in the substitute heads and tails. Ted indicated that these are to be done in ascending and descending sequences, on all string sets, with sustained fingerings, in all keys, in minor tonalities also, and starting on different scale degrees as well! Well, that might take most of us mere mortals several years to do it all! Undoubtedly Ted would have advised you to choose a few that you like and really dig into them, and forget the rest. New music notation provided for easy reading. You'll have to work out the fingerings, etc., since there are many possibilities.]
* Baroque Chord Progressions – Contrapuntal Style, Part 2, 1980-07-06,7. [A continuation of Part 1…more of the same. New notation provided.]
BLUES:
* Blues Progressions (key of G), 1977-09-26. [Here we have yet another blues piece Ted wrote up in 1977 that is a "walking chords" blues study – that is, one chord per beat (mostly). This could be used for comping a blues, or to be included as a guitar solo – especially if you decorate some of the chords with little melodic lines. Ted wrote several lesson pages in this style, and this one is in the key of G and is for intermediate players – that is, most of the chords are fairly easy to play. He left the chord names off of the second half of the page, probably as an assignment for the student to write in. We've gone ahead and notated the page and added the missing chord names (in blue). If you're a guitar teacher you might find this is a nice page to hand out to some of your students.]
CHORD STUDIES:
* I-vi-ii-V Variations, 1974-10-20, 21. [This is a very nice collection of I-vi-ii-V chord progressions in the keys of D and G. Great for those just starting out playing jazz comping or solo guitar. Newly drawn chord diagrams for easy reading.]
* List of Bass-Enhanced Triads by Chord Quality, 1993-01-17. [More chord forms for major family B.E.T.'s. This would have been another page for the book Ted intended to write on "Bass-Enhanced Triads." Notation and newly drawn chord diagrams.]
* Decorated Chord Scales, 1995-09-07. [This page was written up during a private lesson and was intended to target chord scales in first inversion (3rd in the bass) – or described here by Ted as "close triads with root on top." Ted starts each exercise, but stops with the expectation that the student will to follow through as "homework." We've completed each of the exercises with blue notation and grid diagrams. This is posted under the "Chord Scales" header.]
COMPING:
* Baubles Bangles and Beads, 1983-08-31. [This comping page uses chords on the top 4 strings, and is fairly easy to execute. This would be a good lesson to give to a player who is somewhat new to jazz – it has familiar chord forms, but a few challenges as well. Ted indicated that this page is to be played with a sparse "punctuation" rhythmic style. In notating this lesson, we simply gave the chords whole note or half-notes rhythms, and it's up to you to add the punctuations to bring some life into it. Notated with lead sheet combined with Ted's grids.]
OTHER:
* Common Progressions for Taping, Ear-Training, and More, 1991. [Here's some more progressions for Ear-Training – this time focusing on the bVII and bIII chords. Translation pages included.]
SINGLE-NOTE SOLOING:
* Important Arpeggios, 1973-06-18. [This is a very early lesson hand-out that Ted made for A major type sounds, including A7 and A7 altered sounds. He also included some text explaining basic substitution principles that can be used for applying these arpeggios. Newly drawn grids for easy reading.]
THE V-SYSTEM:
* V-2 Chords in V7 – I Progressions (top 4 strings), 1984-11-23. [This is a nice collection of V7 to I chord moves in the keys of G, Eb, and D.]
* V-2 I-VI-II-V-I Progressions, 1986-12-20. [Great progressions for turnarounds and other similar applications. Examples are given in the keys of F, E, Eb, and Gb. Ted didn't include the chord names on his original sheets, so we've added them on a separate copy. Ignore that if you want to do the work yourself, or if you want to give this page as an assignment to your guitar students.]
* V-2, V-4, and V-5 Voicing Groups Unified by the Soprano Tone, 1994-02-12. [We've placed this page in the V-System section under the "Combined Groups" header. Ted provides various chords and shows its V-2, V-4, and V-5 voicings with the common soprano note. This is a nice way of viewing how these different Voicing Groups chord forms are related. Undoubtedly Ted would have encouraged the serious V-System student to do similar types of exercises with different soprano notes, as well and other voicing groups (such as V-1, V-3, etc.).]
TRANSCRIPTIONS:
* Funeral March of a Marionette (from "An Afternoon with Ted"). Transcription by Dan Riley. Notation + Tab. [Thanks for sharing this with us, Dan!]


Ted on YouTube

The Official Ted Greene Forums

* Of course, most of the videos are posted right here in our Video Section


+ + + + + + + + + + + + + + + + + + + + + + + + +



- - - - - - - - - - - - - - My Life with The Chord Chemist - - - - - - - - - - - - - -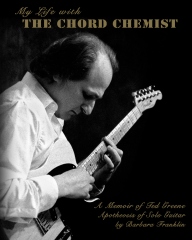 My Life with The Chord Chemist
A Memoir of Ted Greene, Apotheosis of Solo Guitar
By Barbara Franklin

BUY NOW - Available at amazon.com


Publication Date: Nov 24 2009
Page Count: 276
Trim Size: 8" x 10"


ABOUT THE BOOK
A retrospective of Ted Greene, virtuoso solo guitarist, beloved music teacher, world-renowned author and innovator of unique music concepts for guitar. This book also includes an overview of Ted Greene's early life and musical development, plus an insightful narrative of the 13 years prior to his death
Six agonizing months after losing my beloved Ted, I slowly emerged from a state of profound disbelief, almost coma-like. At that time I didn't know what to do with the remnants of my life; then a path began to unfold before me. This website was started and became a saving grace.

During the ensuing years, I organized and categorized Ted's material and personal studies. Upon completion of that massive undertaking, once again, I didn't know what to do, so I began writing.

I wrote pages, and then threw them away, until once again a path began to unfold. What I wrote is mostly a personal memoir. I suppose it was what I had to write first.

From the preface:
"The decision to reveal parts of our personal life was something I deliberated over for a long time. Because our lives became so inextricably bound, I included what I felt necessary, but not without a considerable amount of apprehension. This book illustrates the many parallels between Ted the musician and Ted the person. I felt it was important to convey how Ted was driven compulsively not just to pursue music, but so many other things he loved."
With this in mind, here is our story. It IS very personal and I still have apprehensions about publishing it. My hope is that it brings you closer to Ted, as you begin to get to know and understand this unique and extraordinary man and musician.
+++++++++++++++++++++++++++++++++++++

Don't forget to visit the Newsletter Archives :)