June 2017 • TedGreene.com Newsletter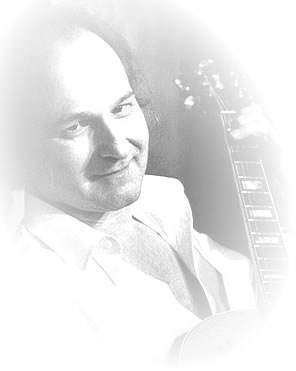 Welcome to the June Summer edition of the Ted Greene Newsletter.
This month Leon White will share with us some details connected with Ted's arrangement of the song "Ruby," which is featured as this months "arrangement-of-the-month."
Ted's arrangement of "Ruby" – is from the theme from the film "Ruby Gentry" (1952). There is a story that goes with it, and we thought you might enjoy it. I should add that the arrangement is pretty difficult, but Paul's notation makes it somewhat more approachable.
As a youngster growing up in Los Angeles there was always a lot of music in our family, and a smattering of friends who were "in the business" (motion pictures). This was not uncommon as the Hollywood community was pretty large back in the day, and there were a lot more studio musicians working here.
One of my father's closest friends was composer Heinz Roemheld (pronounced "Rame-held"). As a small child I would listened to Heinz and my father talking, and Heinz often played at the house. He had won an Oscar for the 1942 musical, "Yankee Doodle Dandy" with Ray Heindorf.
Heinz had started his career at Universal, but later moved to the Warner Bros. Music department, where a number of great composers worked in the golden years (1934-1954 or so for composers). Heinz was an incredible musician, with a wonderful sense of humor, and he became my friend.
The story I heard about "Ruby" was this: Heinz scored the film (no lyrics) and the movie started in release. The theme got everyone excited, but to qualify for an Academy Award nomination it had to have words. The studio considered re-scoring the theme to include lyrics that were being written at that instant, but since the early release 'counted' in Academy rules, it couldn't be re-released for consideration. I don't know if that is true, but I heard it from a number of people, and Heinz, as I recall.
Anyway, years later I met Ted and started to take lessons. He asked me what music I liked and I mentioned film scores. His eyes lit up and we talked about the Warner Bros. department with the incredible Max Steiner (who, like Heinz, was alive and well at this time). Film music became our bond. Years later I asked Ted if he'd ever done an arrangement of "Ruby" and he said, "No, but I'll do one for you." At that time, Ted and Barbara were together. Barb's father had run the Warner's music library (music copying, library, providing music for sessions, etc.) and she and her dad knew Steiner and the crew (Barb worked as a copyist and librarian there).
Ted must have been loving it! Ted introduced me to Barb, and my wife and I become fast friends with Barb. And Heinz, who had passed away by this time, comes full circle to Ted, the Warner music department, and "Ruby" in the arrangement you're getting this month.
Fun film fact: the beginning of the bridge to "Ruby" was first written by Heinz as an incidental cue in a 1937 film called "Nancy Drew and the Hidden Staircase" – no kidding! I don't know if Heinz ever realized those two bars had been rolling around in his head for 15 years. I only discovered the cue by accident. ("Laura" has a similar story – but that's for another day.)
The Ted version of "Ruby" is actually three different 'takes' – each in a different key, as you'll see if you look at the original pages. While the Ray Charles version was loved by Heinz, the theme owes more to songs like "Laura" and "Stella by Starlight." Ted once remarked that these songs were in the 'half-step harmony style' that was popular at that time. I assume he was referring to the initial melody moving up or down a half-step or the triads moving a half-step behind the melody while suggesting a cycle of 4ths/5ths kind of progression.
Ted was a terrific listener to scores and discovered several previously unknown Max Steiner scores later confirmed by the Steiner Society and research. Mr. Steiner was racing to score "Gone with the Wind" in 1939, and a number of other composers and orchestrators helped out to make the deadline. It has only recently been discovered that Mr. Roemheld worked on several key scenes in the film. Thanks for listening.
Thanks for sharing that story, Leon. We hope you all enjoy learning/playing this arrangement. Also new for this month: we've added a new header in the "Arrangements" section called "Lead Sheets written by Ted." This is where we'll post Ted's handwritten lead sheets, some of which also include a rough sketch for a guitar arrangement. If Ted wrote up a full arrangement or comping page for a song, then we'll generally include his lead sheet with that arrangement/comping write-up. But this new section is for those lead sheets which he didn't make a written arrangement.
Also, be sure to check out the new, previously unpublished interview with Ted by Robert C. Jones – a real nice interview!
Hope you guys enjoy the new lessons and other material
~ Your Friends on the TedGreene.com Team

NEW ITEMS
ARRANGEMENTS:
* Ruby, 1989-01-12. [See Newsletter message above. Standard notation with lyrics added to Ted's grids.]
The following are all posted under the new header, "Lead Sheets written by Ted":
* Along Came Betty, Ted's handwritten lead sheet and arrangement sketch
* Beyond the Sea, Ted's 1979 handwritten lead sheet
* Desafinado, Ted's 1977 handwritten lead sheet and arrangement sketch
* How Deep is the Ocean, Ted's 1976 handwritten lead sheet and arrangement sketch.
* Makin' Whoopee, Ted's 1974 handwritten lead sheet
* Smile, Ted's 1977 handwritten lead sheet
* Tangerine, Ted's 1979 handwritten lead sheet
* The Song is You, Ted's 1984 handwritten lead sheet
ARTICLES & INTERVIEWS:
"My Interview with Ted Greene" by Robert C. Jones. [This is a wonderful interview that for some reason never was published. Recently Robert resurrected it from his computer's hard drive and wanted to share it with us. It was held in February, 1995, and is 12 pages in length. Special thanks to Robert for conducting this fine interview and for donating it to our site.]
BAROQUE:
* Baroque Melodic Tendencies – Organized over Basses, 1980-12-18. [This was among Ted's teaching papers but was probably written for him more than intended as a student hand-out sheet. Here Ted thoroughly explores a one-measure phrase with melodic variations and a static bass line, in what he called a "3 of 4"-to-1" melodic ratio. Direction is also given to do on all string sets, fingerings, up or down an octave, and in reverse descending order. New notation provided for easy reading.]
BLUES:
* Chicago Blues without IV in Bar 2, 1993-10-21. [This was written up during a private lesson. On the original page Ted wrote "#6 (#2 in A)", so it is quite possible that this was part of a series of blues lessons he wrote for this student (although none of the others in this series seem to exist in Ted's archives). It's a pretty cool blues groove, and is fairly easy to get under your fingers. The time signature could be interpreted as either 4/4 with a triplet feel, or as 12/8. The notation in measures 5-6 was very slightly modified from Ted's grids – this done in order to retain the feel/groove that he established in the previous measures. Special thanks to Nick Stasinos for helping with checking of the notation.]
CHORD STUDIES:
* Progressions Using Power-Bass Triads, BET, Slashers, 1989-1990. [These are some very hip progressions that I think you'll like. The sky's the limit as to how you might use these babies. These are ideas from Ted's Personal Music Studies papers that he was collecting with the intention on using them in a book he as planning to write called "Bass-Enhanced Triads." We've posted this in the "Chord Studies" section under the "Bass-Enhanced Triads" header. Three original pages from Ted, plus four new pages of notation + grids for easy reading.]
* Major Pentatonic (Parts 1-3) 2 Voices 2-to-1, 1985. [In this series (parts 1 thru 8), Ted takes us up and down the major pentatonic scale using dyads with a moving soprano (sometimes a moving bass), with different melodic patterns and on different parts of the guitar fingerboard. These can be very useful little licks to occasionally throw in during a solo guitar arrangement. Ted did something similar to this at the end of his arrangement of "The Girl with the Flaxen Hair." Parts 1-3 has four original pages plus six pages of notation and grids.]
* Major Pentatonic (Part 4) 2 Voices 2-to-1, 1985. [Part 4 has one original page plus two pages of notation and grids.]
* Major Pentatonic (Parts 5-6) 2 Voices Sounding Like 3, 1985. [Parts 5-6 has two original pages plus four pages of notation and grids.]
* Major Pentatonic (Parts 7-8) 2-Note Pentatonic with Dots and Ties, 1985. [Parts 7-8 has two original pages plus four pages of notation and grids.]
* Chord Passages Starting from I (R37 Types), 1987-02-05. [This page was filed in Ted's folder on "Diatonic Chord Scales," however, it really isn't a complete chord scale, so we didn't place it in the "Chord Scales" area. It simply utilizes some diatonic chord scale passages with a Root, 3rd, 7th voicing, plus different melodic lines added. These are interesting little phrase that could easily be adopted as intros, interludes, or endings to a solo guitar arrangement. New notation provided.]
* Cumulative Chord Phrases Starting from IV (R37 Types), 1987-02-04. [As above, more Root, 3rd, 7th voicing passages. New notation provided.]
COMPING:
* Autumn Leaves (keys of Am and Dm), 1979-05-01. [An excellent comping study in two keys. Ted wrote that these are "skeleton" versions using lots of modern voicings. He also assigned the student to "embellish melodically as in a trio setting; and don't forget about rhythmic delays on any or all notes." Notation combined with lead sheet, lyrics, and Ted's grids. Five pages total.]
THE V-SYSTEM:
* Fill-in Quiz - V-2 Dim7 and Extensions, 1984-12-24, 25. [Posted in the V-System/V-2 area under the "Diminished and Half-diminished Types." Three original pages by Ted, plus 3 pages with the "answers" filled in with blue ink.]
* Large Leap Drills with V-2 Dim7 and Extensions, 1984-12-23, 25. [Posted in the V-System/V-2 area under the "Diminished and Half-diminished Types." Three original pages by Ted, plus 3 pages with the "answers" filled in with blue ink.]


Ted on YouTube

The Official Ted Greene Forums

* Of course, most of the videos are posted right here in our Video Section


+ + + + + + + + + + + + + + + + + + + + + + + + +



- - - - - - - - - - - - - - My Life with The Chord Chemist - - - - - - - - - - - - - -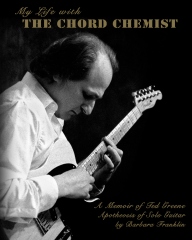 My Life with The Chord Chemist
A Memoir of Ted Greene, Apotheosis of Solo Guitar
By Barbara Franklin

BUY NOW - Available at amazon.com


Publication Date: Nov 24 2009
Page Count: 276
Trim Size: 8" x 10"


ABOUT THE BOOK
A retrospective of Ted Greene, virtuoso solo guitarist, beloved music teacher, world-renowned author and innovator of unique music concepts for guitar. This book also includes an overview of Ted Greene's early life and musical development, plus an insightful narrative of the 13 years prior to his death
Six agonizing months after losing my beloved Ted, I slowly emerged from a state of profound disbelief, almost coma-like. At that time I didn't know what to do with the remnants of my life; then a path began to unfold before me. This website was started and became a saving grace.

During the ensuing years, I organized and categorized Ted's material and personal studies. Upon completion of that massive undertaking, once again, I didn't know what to do, so I began writing.

I wrote pages, and then threw them away, until once again a path began to unfold. What I wrote is mostly a personal memoir. I suppose it was what I had to write first.

From the preface:
"The decision to reveal parts of our personal life was something I deliberated over for a long time. Because our lives became so inextricably bound, I included what I felt necessary, but not without a considerable amount of apprehension. This book illustrates the many parallels between Ted the musician and Ted the person. I felt it was important to convey how Ted was driven compulsively not just to pursue music, but so many other things he loved."
With this in mind, here is our story. It IS very personal and I still have apprehensions about publishing it. My hope is that it brings you closer to Ted, as you begin to get to know and understand this unique and extraordinary man and musician.
+++++++++++++++++++++++++++++++++++++

Don't forget to visit the Newsletter Archives :)