December 2017 • TedGreene.com Newsletter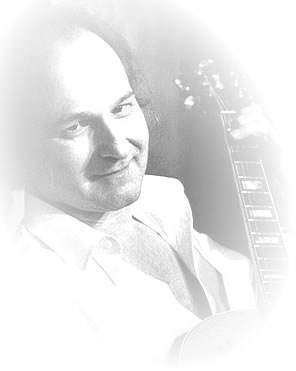 December Holiday Greetings to all our friends and students of Ted!
This month we're putting a little focus on the Christmas holidays. For the "Lesson File Upgrades" last month we posted 14 of Ted's Christmas song arrangements. We're now adding 5 new ones to the "Arrangements" section, 2 of which are comping studies. Even though the comping pages would normally go in our "Comping" section, we've placed these in the Arrangements/Christmas Tunes area so that you can easily find all of Ted's Christmas pieces in one place. Plus we've added 5 new contributions in the "From Students" area, 4 of which are write-ups of Ted's Christmas songs.
Whether you prefer standard notation, grid diagrams, or TAB, you should be able to learn these pieces from all the newly posted pages. At this time all of Ted's Christmas pages are now posted….and that's all there is (except if there are some pages from private lessons out there that we don't have copies of in the archives). So, we'd like to encourage you to dig in and learn at least one or two (or several!) of these Christmas arrangements, and perhaps play them sometime during your Christmastime.
We asked Leon White to share some thoughts about Ted during the holidays:
"Ted at Christmastime"
I was asked to speak a little about my memories and stories of Ted at the holidays. As you may have seen from the various videos, he loved holiday music and could really evoke those emotions in his arrangements. But what about Ted the person? My experiences are a bit limited, as he was a busy guy – and even more so during the holidays.
Ted did write holiday cards, often with lengthy notes written with his usual tiny handwriting (not every year, but often). To whom he wrote, I've no idea, but I and my wife received some of his beautiful holiday messages. Ted would also bring a gift if we invited him over or when he came by "making his rounds" of holiday visits. Since we both shared a love of classic films and classic film music, Ted would often gift us with a rare out-of-print edition of some book or movie memorabilia. With his incredible memory he often found a unique, wonderful, and unexpected treasure for my family. Unforgettable!
In the summer in 1994, I managed to convince Ted to take a gig playing at my youngest sister's wedding. It was held in a family home in Orange County that was intimate enough for a great playing situation for Ted. This was a long trek for him – a 75-mile drive from his Encino apartment with his car "Betsy." After he played the usual wedding fare, some of the family members expressed that they wanted to sing, and so Ted started to play Christmas carols! I think he chose these songs because most people know the words. It was an inspired moment with the wedding, the Christmas carols, and Ted laughing and my sisters singing.
After Ted and Barbara became a couple they would often come to our house together, including during the holidays. Because of Barb's off-beat sense of humor, our gatherings often turned into times of uncontrollable laughter for all. I think it was a favorite time of the year for Ted. He still kept playing, teaching, and studying—that never changed (unless the Lakers were playing, and in those days the team was playing amazing games and winning championships)—but Ted got out more, saw friends a bit more, shopped more for some of his favorite things, and spent additional time with people he loved.
The holidays are the times when my family thinks of Ted most often, and we feel blessed that he and Barbara were in our lives.
Wishing a very happy holiday season to you all,
~ Leon

~ The TedGreene.com Team

NEW ITEMS
ARRANGEMENTS:
* God Rest Ye Merry Gentlemen, (partial), Key of Ebm, 1995-11-13. [Here we have a couple of short fragments for this song, undoubtedly written up by Ted to illustrate a chord sequence with a bass line and voice-leading that he liked. You might want to transpose these fragments into the key of Dm and work them into Ted's other arrangement as optional variations. Notation, lyrics, and chord names added.]
* O Come All Ye Faithful, Key of B, 1985-12-24. [This is another partial arrangement with some sections Ted left blank for the student to complete. Notation, newly drawn grids, chord names, and lyrics added for clarity.]
* Santa Claus is Coming to Town (undated). [This piece is a bit more challenging. It's actually an "upgrade" of a file that was posted a few years ago. We've added notation, lyrics, and chord names to make it easier to follow. Again, on this arrangement Ted left out a portion for the student to complete – in this case, the bridge was omitted. We've added the notation so you can finish it.]
* Silver Bells (comping). [This is a page written up during a private lesson. We've combined Ted's grids with notation, lead sheet, lyrics, chord names for Ted's chords, and the standard changes for comparison. Because this is a comping study it would normally go in our "Comping" section – but because it falls into the category of Christmas tunes, we've placed it in the "Arrangements" section along with the other Christmas pieces. It's not very difficult to convert this into a solo guitar arrangement by using Ted's basic chord forms, making some adjustments by adding the melody line.]
* Winter Wonderland (comping), 2003-11-12. [As above, this comping page has been added to the Arrangements/Christmas Tunes section. Compare this version to Ted's arrangement of this song. This write-up combines Ted's grids with standard notation, lead sheet with lyrics, and chord "qualities" added to Ted's grids.]
BAROQUE:
* Bass View and Summary of Baroque Harmonic Vocabulary, 1978-07-08. [These charts show all the commonly used chords for each bass note in the keys of C and Am (including non-diatonic bass notes). This is a good reference page. Newly typed text included.]
* Triads in 1st Inversion, 1974-12-07. [Ted explains and provides examples of the various ways in which triads in 1st inversion are commonly used. New notation with chord names provided. For chord grid diagrams of each example, please see Mark Thornbury's "homework" of this page in his "From Students" section.]
BLUES:
* Gospel-Blue Phrases, 1997-01-17. [Several short examples in the key of B, D, Db, and Bb. Notation and chord names provided on the write-up pages.]
FUNDAMENTALS:
* Voicing Reference Page, 1977-08-10. [Ted shows what he considered "fundamental" forms for minor, major, and dominant type chords, organized according to the different inversions (bass notes). Redrawn grids for easy reading.]

OTHER:
* Ear-Training Through Specific Quality-Degrees: Focus VI7#9, 1986-02-15. [This page and the one listed below, were filed away with Ted's V-System lesson sheets, but since they're more about ear-training we put them in the "Other" section under the "Ear-Training" header. Notation provided.]
* Ear-Training Through Specific Quality-Degrees: Focus VI9, 1986-02-15. [Chord names and typed text added for clarity.]
THE V-SYSTEM:
* Systematic Inversions: V-2 Diminished 7th Forms – Intro and Progression Application, 1985-05-08. [Several exercises designed to get you familiar with diminished 7th chord hook-ups on adjacent string sets. Notation provided and filled-in grids.]
* V-2 Diminished 7ths – Outside Strings Hook-up, 1984-06-12. [Exercises for V-2 diminished 7th chords on various string sets.]
TRANSCRIPTIONS:
* In the Still of the Night (from "Live at the Seashell Restaurant"). Notation + TAB.
Also included is GPX (Guitar Pro) files, in 2 parts. Transcribed by Dylan Hoey
* Going Out of My Head (from "Live at the Seashell Restaurant"). Notation + TAB.
Also included is GPX (Guitar Pro) file. Transcribed by Dylan Hoey
[These two transcriptions come from the video of Ted playing at the Seashell Restaurant in Tarzana, CA in February of 1993. Find it on YouTube, "Ted Greene at Seashell 4." Ted's guitar is in standard tuning, but tuned down a half-step. This was transcribed by Dylan Hoey at "Custom Music Transcriptions.com" as commissioned by Damien McGowran. Ted begins by playing "In the Still of the Night" and then segues into "Going Out of My Head" around 4:39. Thank you Damien!!]
FROM STUDENTS:
* Deck the Halls, Ted's 1974-12-05 Arrangement, notated by Colin Hensen.
* God Rest Ye Merry Gentlemen, Ted's 1972-12-07 Arrangement, notated by Jon Griffin.
* Hark the Herald Angels Sing, Ted's 1974-12-05 Arrangement, notated by Colin Hensen.
* O Come All Ye Faithful, Ted's 1974-12-05 Arrangement, notated by Colin Hensen.
* Triads in 1st Inversion, 1974-12-07. [This is Mark's "Homework" pages for this lesson. He used Ted-style chord grids to map out all of the examples on Ted's original sheet.]




Ted on YouTube

The Official Ted Greene Forums

* Of course, most of the videos are posted right here in our Video Section


+ + + + + + + + + + + + + + + + + + + + + + + + +



- - - - - - - - - - - - - - My Life with The Chord Chemist - - - - - - - - - - - - - -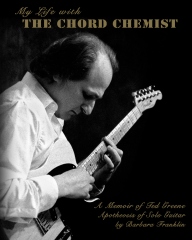 My Life with The Chord Chemist
A Memoir of Ted Greene, Apotheosis of Solo Guitar
By Barbara Franklin

BUY NOW - Available at amazon.com


Publication Date: Nov 24 2009
Page Count: 276
Trim Size: 8" x 10"


ABOUT THE BOOK
A retrospective of Ted Greene, virtuoso solo guitarist, beloved music teacher, world-renowned author and innovator of unique music concepts for guitar. This book also includes an overview of Ted Greene's early life and musical development, plus an insightful narrative of the 13 years prior to his death
Six agonizing months after losing my beloved Ted, I slowly emerged from a state of profound disbelief, almost coma-like. At that time I didn't know what to do with the remnants of my life; then a path began to unfold before me. This website was started and became a saving grace.

During the ensuing years, I organized and categorized Ted's material and personal studies. Upon completion of that massive undertaking, once again, I didn't know what to do, so I began writing.

I wrote pages, and then threw them away, until once again a path began to unfold. What I wrote is mostly a personal memoir. I suppose it was what I had to write first.

From the preface:
"The decision to reveal parts of our personal life was something I deliberated over for a long time. Because our lives became so inextricably bound, I included what I felt necessary, but not without a considerable amount of apprehension. This book illustrates the many parallels between Ted the musician and Ted the person. I felt it was important to convey how Ted was driven compulsively not just to pursue music, but so many other things he loved."
With this in mind, here is our story. It IS very personal and I still have apprehensions about publishing it. My hope is that it brings you closer to Ted, as you begin to get to know and understand this unique and extraordinary man and musician.
+++++++++++++++++++++++++++++++++++++

Don't forget to visit the Newsletter Archives :)