March 2018 • TedGreene.com Newsletter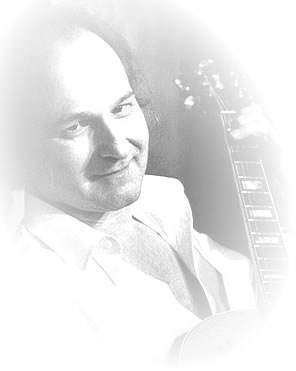 Welcome to the March edition of the TedGreene.com newsletter!
If you're relatively new to this site we invite you to thoroughly explore all the different areas here. Keep in mind that there's a lot of stuff packed away in the deep recesses of the various sections. For instance, go to Lessons / The V-System / V-2 to find a load of V-2 (drop-2 voicing) lessons. Or read through the Newsletter Archives to find articles nowhere else published, including some words from Barbara Franklin (who wrote and coordinated all the early Newsletters), Leon White, Jim Carlton, Andy Brown, Cathy Segal-Garcia, Rowanne Mark, Steve Lukather, Dan Sawyer, Tim Lerch, and more.
And check out the Audio section (found by going to the tab on the top right of the Homepage) to hear recordings of Ted that are not published elsewhere, including tons of recorded private lessons with Ted, seminars, interviews, and albums. The Personal / Articles & Interviews section has many articles published by or about Ted that make for great reading.
We could go on and on…and someday we hope we'll have some kind of "tour guide" that can take you through to it all. But for now, enjoy the exploration. We're sure you'll find something that will perk your interest, get you thinking, inspire you or simply enjoy…and it's all for free! Oh, and of course, don't forget the Forums…especially going back and reading older posts (try using the search feature to find subjects you're into).
If you've been following the Forums lately you'll have noticed that Steve Herberman recently provided us with some YouTube links to a recording he made of his extended lesson with Ted back in 1995. This is a fabulous encounter between two awesome musicians. You can tell that Ted was excited to find such an accomplished young player. A couple of times Ted told him, "You don't need lessons…." There's a great exchange of musical thoughts going on here. We wanted to let you all know that we've added those recordings (more accurately, the YouTube links) to our Audio section under "Lessons with Steve Herberman" (see description below). If you could, we're asking if you could support Steve's YT page with a "like" and to subscribe to his YT channel. He also is providing us with two Ted recorded lessons with John McCain, one of which is an upgrade from a 1991 lesson we had published previously, and the other is a unpublished 1989 recording. Thanks for sharing these, Steve and John!
And finally, we wanted to leave you with some memories of Ted by some of his students, extracted from the Ted Greene Memorial Blog:
"I first met Ted in the early '70s while shopping for a tele at Betnun Music in Los Angeles. I remember hearing what I thought were two guitarists playing in another room. When I looked around the corner there was only one player, and of course it was Ted. His gentleness and artistry are the two traits I will remember the most.
"Our paths crossed many times over the years, and every time I felt I was in the presence of a great artist and an exceptional human being. Ted had a profound influence on guitarists everywhere and it's difficult to imagine a world without him. Thank you, Ted for making our world a more beautiful place. I'll never forget the beauty of your playing or the purity of your heart."
~ Jody Fisher
"Ted was probably the most inspiring man I have had the privilege of meeting. As an Australian resident, I managed to organize a handful of lessons during my infrequent visits to Los Angeles. It is no exaggeration to say that these meetings had a profound and lasting effect upon my life. On one occasion I inquired as to why he performed so infrequently. His response was that it was no longer a priority. When pressing him as to what was a priority, he replied simply: knowledge! How many people in this day and age devote their entire being to the pursuit of knowledge? He was truly a remarkable being whose teaching extended far beyond the musical arena."
~ Lucas Michailidis
"I met Ted and began studying with him when I was 17 years old. I am now 36 [this was written in 2005]. Ted and I became friends from the first phone call. And there was a waiting list at that time! Remember that? Some of you out there will remember his first apartment that had 2 chairs, a music stand, an ashtray, and needless to say, a tape recorder with which he demanded that the lesson be taped. The lessons and the man were serious then, really serious. (The apartment was clean to a fault.) But, even as we have known him in recent years, he was very kind, understanding and selfless then as well.
"At this time he became like a surrogate father to me. Many times we wouldn't even pick up the guitars – we would just talk for 2 hours. He helped me learn how to live life. So many times he talked me through some really rough experiences. He was more of a father to me than my father. Ted was not only a teacher of music for me, but he taught me so much about living! I could talk to him about anything. I do not know where I would be without having him in my life. And now in 2005 he is still like my father and dearest friend.
"We shared quite a bit together. I am sure that there are others out there who got to share some special times and special conversations with him. There were many sides to Ted. I will cherish the memories of speaking to him so frankly on such a wide range of subjects! And he surprised the hell out of me with his vast knowledge and ideas about so many things.
One time I brought him a bunch of my Roman and Greek coins to see. The next week he had started up again with his coin collection. They were all over the place!! Quarters galore! He said that he loved the quarters! I loved sharing with him my collections of all things ancient.
"Ted, you know how much we will all miss you. You touched so many lives. I'm not sure what I/we will do without your direction, opinions, thoughts, and guidance. I am sad beyond words, and the world—and especially the world of music and guitar—is a different place without you here."
~ Rich Glasband
~ Your friends on the TedGreene.com Team

NEW ITEMS
ARRANGEMENTS:
* Love Walked In (key of G), 1977-05-25. [This arrangement is the G version that Ted wrote up for students back in 1977. We posted the Eb version last month. The G version ends after 24 measures, and Ted just wrote, "etc." – meaning, it is up to the student to finish it. On the write-up, we included the melody, lyrics, and basic changes for the remaining 8 measure, but left out any harmonization so you add your own ideas. A couple of suggestions: you might look at the harmonization that Ted used elsewhere in the G arrangement and borrow those chords for the final 8 measures. Or, you could look at the Eb version and transpose the last 8 measures to G and import it. Yet another idea that might be more "Ted-like" would be to start off by playing the G version, then at measure #24 modulate to the key of Eb, and play Ted's entire Eb arrangement. Experiment and find out what works best for you. Enjoy!]
* Softly as I Leave You, 1989-09-10. [This is a beautiful song that Ted created a really nice version that I think you'll find very satisfying and not too difficult to play. Probably the hardest thing about Ted's original page this was trying to follow or navigate it as he intended (measure 36 onward), and to notate it accordingly. One key to playing this (and other Ted arrangements) is to be sure that the melody really sustains above the moving harmony. "Make it 'sing'" – as Ted would often say. Notation, lyrics, and chord names provided for easy reading, learning, and absorbing.]
AUDIO:
Under the "Lessons with Steve Herberman" header:
* Ted Greene Lesson with Steve Herberman, 1995-12-04 (part 1) Length: 45:52
* Ted Greene Lesson with Steve Herberman, 1995-12-04 (part 2) Length: 47:01
* Ted Greene Lesson with Steve Herberman, 1995-12-04 (part 3) Length: 47:35
* Ted Greene Lesson with Steve Herberman, 1995-12-04 (part 4) Length: 18:19
Total length: 2:38:47
Comments from Steve:
Part 1: This was my first meeting with master musician Ted Greene at his apartment in Encino CA. We discuss George Van Eps, Lenny Breau, Johnny Smith, cross rhythms, bringing out lower harmonics in chords, and Chord Chemistry.
Part 2: Topics in this part of 4 include Lenny Breau essential tone comping, Low A string gauges and string cores, A-Frames, deep tuning, "greasy" blues & gospel, astrology, cycle 5 on blues, George Van Eps, and more.
Part 3: Ted continues his discussion/demonstration of American and European guitar styles for chord/melody improvisation. Topics included are: Ted's amazing Baroque-style playing, "Bouncy" playing Chet Atkins style (stride and ragtime), finding and nurturing one's own voice, playing for the audience, Ted's love of sustained sounds and delayed entrances, being yourself, Lenny Breau, Chord Chemistry's chord reference charts and his voicing system (the V-System), Gretsch 7 string, Ed Bickert's Tele, vacancy in Ted's building!, beauty and groove, Pseudo-Latin style and New Orleans style, Gospel 3 and Doo-Wop 3.
Part 4: This final portion includes: arranging techniques including keys and feels, Beatles tunes "And I Love Her" and "Ticket to Ride," shuffles, marches, different types of waltzes, tumbao bass, folk fingerpicking, Bo Diddley beat, New Orleans grooves, Lenny Breau's practicing and George Van Eps!
Under the "Lessons for John C. McCain" header:
* Ted Greene Lesson for John C. McCain, 1989 (part 1) Length: 46:19
* Ted Greene Lesson for John C. McCain, 1991 (part 2) Length: 46:11
[These 2 lessons were recorded by Ted on a single tape cassette and mailed to John as "correspondence lessons." They're the result of Ted sitting in front of a tape recorder, guitar in hand, and giving a spontaneous lesson without the benefit of the student being present. It was provided to us by Steve Herberman, who had a cassette copy of this recording from John. John's tape had deteriorated over time and parts of it were corrupted, which resulted in a wobbling speed and distorted sound. But Steve's copy plays perfectly, and it now replaces the older file we posted previously. Thanks, John and Steve!]

BAROQUE:
* Baroque 2-Voice Counterpoint, 1989-08-08. [Three extended exercises in F#m, Dm, and Bbm. Ted subtitled this page, "Adding a part to an ascending scale-wise bass – in 2-to-1 ratio." Notation provided plus chord symbols that represent an interpretation of the "implied" harmony. Just two notes can often be harmonically interpreted several different ways, and we're not saying that the added chords names are absolute, but we thought to include these to show at least one version, because it can be helpful to see thinking behind the notes, and thereby help you to create your own 2-voice counterpoint. (Thanks to James Hober for his help with this page.)]
CHORD STUDIES:
Under the "Chord Streams" header:
* 3-Note Close Harmony Major Extensions, 1st Series 2nd Set of Strings, 1989-07-24. [Five exercises on stings 2,3,4 for E major and Db major sounds. This series better fits into the category of "chord streams" rather than triads, since many of the forms are more chord fragments (such as 6no3). Ted really liked the sound of using these sequences, and encouraged students to persevere in working on them, difficult as they are to play smoothly. Notation and chord names provided for easy assimilation.]
* 3-Note Close Harmony Major Extensions, 2nd Set of Strings (pt.1), 1989-03-12. [Nine exercises (well, 10 actually if you count 8a as one), all for D major sounds. Notation and chord names provided.]
* 3-Note Close Harmony Major Extensions, 2nd Set of Strings (pt.2), 1989-03-12. [A continuation of part 1. Twelve exercises for D major and G major sounds. Notation and chord names given.]
* 3-Note Close Harmony Major Extensions, Top Set of Strings, 1989-07-20. [Five exercises for A, F, E, and Db major sounds. This page focuses on the top 3 strings. As usual, notation and chord names have been added.]
* 3-Note Close Harmony Major Extensions – Used in Little Melodic Phrases, 1989-02-20. [This group of exercises are for strings 2,3,4, and are a bit more melodic than the previous pages. Notation and chord names are given, though you want to think of them all as just major with extensions.]
Under the "Bass-Enhanced Triads" header:
* Cool Rock and Motown-ish B.E.T. Colors, 1992-12-16. [Ted had this page filed away with his other "B.E.T. sheets, although there really isn't any "B.E.T. or "slash" chords here. Notation and some chord names provided for easy reading.]
COMPING:
* Stella By Starlight, 1988-10-26. [Here's another comping page Ted made for this classic standard, using V-1 and V-2 chord voicings. For some reason Ted titled this page, "Stella That Starlight Girl" – maybe because he was thinking of publishing it and didn't want to use the copyright title. We added notation for Ted's grids, along with lead sheet, lyrics, and chord "qualities" to Ted's chord root names.]
FUNDAMENTALS:
* Cumulative Aeolian Scales, 1989-06-17. [Ted often used the "cumulative" approach for learning new things. This involves first learning little pieces, then adding another small portion, and then adding more. It breaks something into bite-size chunks that are easier to absorb. In this series, Ted shows some fingerings for the Aeolian minor scale for Fm, and Bbm. Notation provided to make it easier to see what Ted is describing with his chord grid diagrams.]
* Cumulative Major Scales, 1989-06-13. [As above, this page has 7 runs in E major.]
* Cumulative Mixolydian Scales, 1989-06-15. [And 7 more runs for E Mixolydian.]
* Triads, 1973-03-24. [This is an early lesson page Ted gave to students to cover a wide variety of subjects relating to triads: basic forms, chord formulas, common progressions, substitute principles, etc. At this time, Ted defined chord voicings as "small, medium, and large" – this was before he discovered his V-System of organizing 4-note chord voicings. He later discarded these definitions of small/med/large chords. Translation page with newly drawn grids provided for easy of reading.]
HARMONY & THEORY:
* Scale-Chord Relationships in Popular Music, 1974-03-23. [On this page Ted defines the diatonic, secondary chord, and "other secondary chords" along with their extensions and associated scales. Typed out translation page added for easy reading.]
* Tonality Types for Solo Guitar, 1975-03-25. [Ted subtitled this page "Dealing more with norms than exceptions." He listed 5 major and 9 minor types and their various rhythmic and harmonic elements. Typed translation page to make it easier to read.]
OTHER:
Under the "Harp-Harmonics" header:
* Harp-Harmonic Forms on the Top 5 Strings (More Dissonant), 1980-11-01, 24. [On these two pages Ted wrote out 329 grids to be played using the harp-harmonics technique. He labelled them as "more dissonant," but many of them sound wonderful "in context." You might also find that a lot of them are great for unusual/odd/eerie sounds for things like a movie soundtrack. A great deal of these forms are extreme finger-stretchers – but all are reachable, especially for those with small guitars, large-hands, or an iron determination and perseverance to get it down! I'm sure Ted would advise one to try them all, to highlight the ones that you love, and just set aside the rest. Don't overburden yourself with too many, because there's a limited use for these sounds, and you certainly don't need a lot of them. Newly drawn grids provided to save your eyes from squinting at Ted's original pages.]
SINGLE-NOTE SOLOING:
* Scale Hearts – Dominant, 1987-06-16. [Here's another approach Ted used for teaching scales and arpeggios relating to chords in the same positions. Translation page provided.]
THE V-SYSTEM:
* V-3 Diatonic, (undated). [Last month we completed the posting of all of Ted's "official" V-System lesson pages. We'll now continue posting some V-System pages, but they will be from his "Personal Music Studies" files, generally not intended to be given to students. This V-3 page has some fragments of diatonic chord scale patterns, and with broken melodic patterns. Notation and chord names provided.]




Ted on YouTube

The Official Ted Greene Forums

* Of course, most of the videos are posted right here in our Video Section


+ + + + + + + + + + + + + + + + + + + + + + + + +



- - - - - - - - - - - - - - My Life with The Chord Chemist - - - - - - - - - - - - - -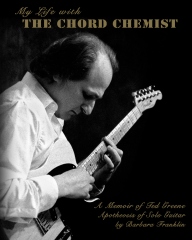 My Life with The Chord Chemist
A Memoir of Ted Greene, Apotheosis of Solo Guitar
By Barbara Franklin

BUY NOW - Available at amazon.com


Publication Date: Nov 24 2009
Page Count: 276
Trim Size: 8" x 10"


ABOUT THE BOOK
A retrospective of Ted Greene, virtuoso solo guitarist, beloved music teacher, world-renowned author and innovator of unique music concepts for guitar. This book also includes an overview of Ted Greene's early life and musical development, plus an insightful narrative of the 13 years prior to his death
Six agonizing months after losing my beloved Ted, I slowly emerged from a state of profound disbelief, almost coma-like. At that time I didn't know what to do with the remnants of my life; then a path began to unfold before me. This website was started and became a saving grace.

During the ensuing years, I organized and categorized Ted's material and personal studies. Upon completion of that massive undertaking, once again, I didn't know what to do, so I began writing.

I wrote pages, and then threw them away, until once again a path began to unfold. What I wrote is mostly a personal memoir. I suppose it was what I had to write first.

From the preface:
"The decision to reveal parts of our personal life was something I deliberated over for a long time. Because our lives became so inextricably bound, I included what I felt necessary, but not without a considerable amount of apprehension. This book illustrates the many parallels between Ted the musician and Ted the person. I felt it was important to convey how Ted was driven compulsively not just to pursue music, but so many other things he loved."
With this in mind, here is our story. It IS very personal and I still have apprehensions about publishing it. My hope is that it brings you closer to Ted, as you begin to get to know and understand this unique and extraordinary man and musician.
+++++++++++++++++++++++++++++++++++++

Don't forget to visit the Newsletter Archives :)