We've partnered with the folks at Six String Logic to make available the brand new Trail Guide to Chord Chemistry, Your Essential Road Map to Understanding Ted Greene's Book by Leon White, at no charge to our friends and supporters of TedGreene.com.
The Trail Guide can help you get more out of Chord Chemisty faster. It contains...
Descriptions of each chapter (section)
Analysis of how to use the book
Suggested "trails" through the book
A grid version of one of the chord melody examples
Photos of some of Ted's less well-known guitars
The guide is short, easy to read, and can help you find your way through the book.
This gift is our way of saying thanks for your support in the effort to keep the Legacy of Ted Greene alive for generations to come.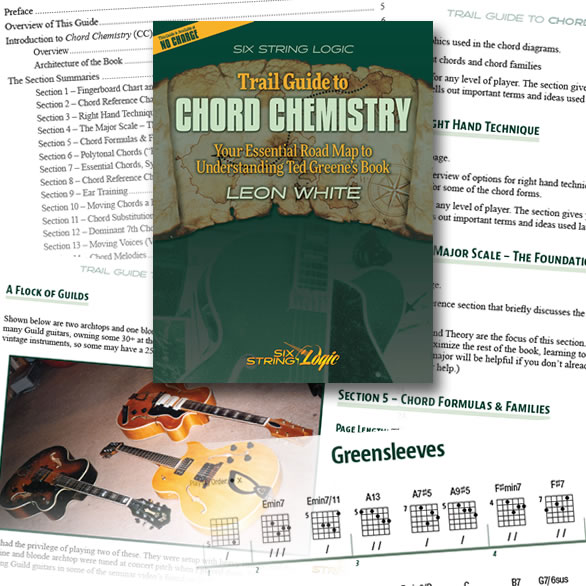 To get your copy of this 32-page Trail Guide, simply click the button below. You'll be asked for your name and email address (that's all) to validate and deliver your download link.
For over 10 years, TedGreene.com and the Ted Greene Forums have welcomed hundreds of thousands of guitar players and enthusiasts from all around the world who have benefited from the content we've delivered freely (over 1300 guitar lessons, transcriptions and much more). That has been and continues to be our goal. If you get value from the site, please donate if you can: